Last week, I had a little trip to Daiso at Robinson's Galleria, I was thrilled when I saw a lot of new products inside. I immediately go to their makeup aisle and see what I can find.
I instantly spotted their lip crayons because of their cute packaging. I think it has 5 shades available at that time, I was about to get all the shades when the BF stopped me and reminded me of my "Mag-ipon Policy". So I ended up getting 2 shades together with some other stuff that I will be reviewing for the next couple of days.
80 Php
Packaging
It's the same as the other Jumbo Lip Crayon that I tried but this has a super fun and girly design that reminds me of Happy Skin Lippies.
Texture
I didn't expect much for this lipstick because of the price but OMG! This lipstick makes my lips super moisturize. It doesn't dry out my lips ,it's like I'm wearing lip balm with a gloss and it kinda makes my lips look more juicy. (RAWR!)
Though one thing I noticed, is that the color doesn't show on my lips on the first swipe. You need to build the color before you get the your desired shade which is totally fine for me.
It doesn't have that minty scent unlike the other Lip Crayons that I tried. For some this could be a plus but I always like the minty sensation on my lips.
Honey Beige
Just by looking at it you will see that this has a lovely pinkish brown everyday color but when swatched on my lips the color barely shows up. I like putting this on top of my NYX matte lipcream in Cannes to give my lips a little oomph.
Cherry Pink
I though this shade is going to be too bright for me, but when I applied it on my lips it gives my lips a little tint with tons of gloss which I really like. (Kinda reminds me of little Abby that used to eat Cherry Kool-Aid). The tint will also last you for an hour or so, mine lasted for 5 hours until I ate and wiped my lips.


SWATCHES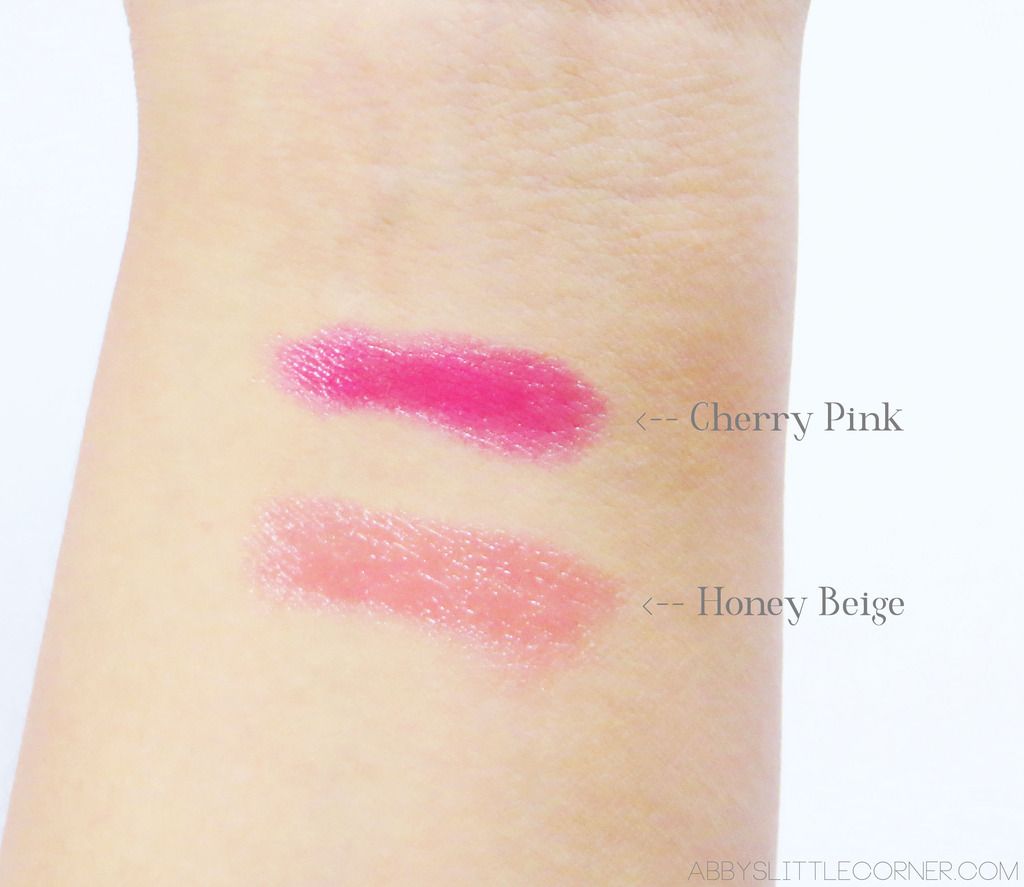 Have you tried this lipstick? What shade? and did you liked them?